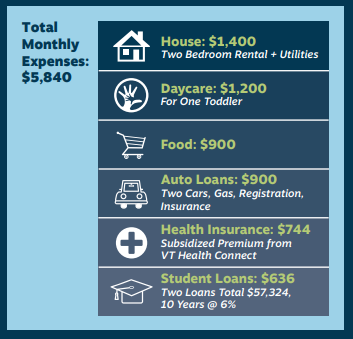 Based on current Vermont research and data, the following graph portrays the reality of what a typical young family of three is experiencing living in Vermont. It is important to note that many of the Young Professionals (YPs) who attended the YP focus groups held college degrees and discussed college debt, childcare and taxes as their greatest concerns when focused on having a family.
For this cohort, the annual median earnings holding a bachelor's degree in Vermont is $40,592 compared to the US median of $52,484 as depicted in the graph. Many YPs expressed that they acknowledge they salary sacrifice to make the choice to choose Vermont's values and quality of life but they make it clear that there is a tipping point where the affordability issues continue to challenge their hopes for a secure financial future.
The Vermont Futures Project presents several key recommendations in the YP report to help address the Young Professional Opportunity Gap to retain these young Vermonters while attracting their peers.