Completion of Economic Plan in 2020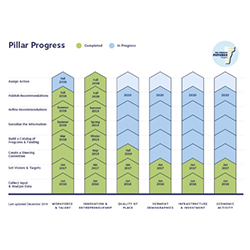 The Vermont Futures Project has identified six pillars , each one with a long-term target.
After completing our Innovation and Entrepreneurship Pillar last month, we turn our attention to the Quality of Place Pillar focusing on the goal to build or retrofit 5,000 housing units annually. We are creating an advisory committee to address Vermont's housing supply to accommodate our workforce needs and support Vermonters.
In addition, we are excited to announce that in 2020 we plan to complete the Economic Plan for the remaining four pillars: Economic Activity, Infrastructure and Investment, Vermont Demographics, and Quality of Place. During this process, we will be also be refining and recalibrating the first two pillars– Workforce and Talent and Innovation and Entrepreneurship– to ensure consistency across the six-pillar framework.