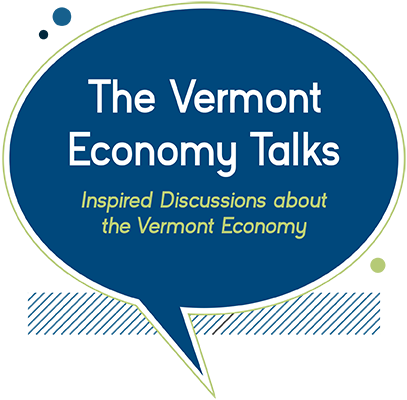 Introducing The Vermont Economy Talks:
Inspired Discussions About the Vermont Economy
Everyone has an economic story – what is yours?
Living in Vermont, we all experience a small slice of the "economic pie" but rarely stop to hear the stories told by our fellow Vermonters as they travel their economic journey. The Vermont Futures Project is starting a conversation with our fellow Vermonters to increase our economic sense and guide how we think about our future economy. We are positioning the economy at the center of this statewide discussion using data, benchmarks, and research that show how a thriving economy provides opportunities for all people and contributes to Vermont's unique quality of life. Join us as we mobilize Vermonters to hear how the economy touches our lives and provides opportunities to grow a more thriving future economy. Listen and engage as we hear from people that are passionate around building a post-pandemic economy that is more resilient than ever.
The Vermont Economy Talks will:
Raise awareness of how Vermont works
Address myths and misconceptions about businesses and the economy
Influence how we think about our everyday economic life in Vermont
Evolve our attitudes and norms
Reinforce and increase our economic knowledge
Shift thinking, change behaviors, and prompt actions
Our data-driven conversations will humanize the economy by sharing insights that initiate even more engagement and dialogue. We will foster curiosity with economic storytelling and compelling questions that open the economic conversation in fresh ways. Economic topics will be explored through data, videos, animated content, storytelling, charts, visuals, and further links to reports and content. Using our economic framework, we will explore how a diverse, equitable and resilient economy can create a thriving future. The Vermont Economy Talks dialogues will help all of us drive the economy toward a shared vision with expanded community engagement around our collective economic experience.
This is a conversation for everyone – for economic leaders and new workers, for young Vermonters and mature Vermonters. For business and community leaders, for legislators and government officials, for non-profits and media voices. For new Vermonters and long-time Vermonters. For your friends and family and the whole community around us.
So, join The Vermont Economy Talks by liking and sharing the content. Invite your friends to join the conversation. Follow, read, and share our posts. Amplify the discussion, provide feedback, and contribute to the content. Sign the pledge to engage with your local economy and take action toward a brighter economic future. Engage with us by formally joining our coalition.
To start talking, check out our website at https://vtfuturesproject.org/vermonteconomytalks/