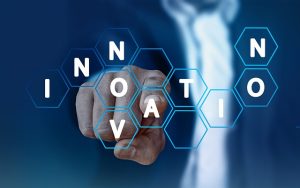 After a year and a half of work addressing Vermont's workforce and talent challenges, the Vermont Futures Project is launching its work to address our Innovation and Entrepreneurship goal.
To begin, we assembled an initial steering group of 16 experts from around the state for a workshop as part of the 2018 Business Expo. The invited experts represented the private sector, government, professional associations, and higher-education, with backgrounds in innovation, entrepreneurship, technology, R&D, and venture capital. The goal of the workshop was to identify key opportunity areas and themes that should be addressed to achieve the identified goal of growing the number and size of Vermont employers.
Our workshop facilitator, Matt Thornhill from the Institute for Tomorrow, guided a very active conversation across a wide range of topics. Based on this initial discussion, many of our future discussions and activities will focus on how to:
Launch and support new companies: identifying the resources and eco-system needed to minimize risk, streamline networking and connections, and building an entrepreneurial pipeline through educational experiences.
Leverage Vermont's smallness and community values: with national trends indicating more people are looking to make a difference, how can we market Vermont as a place where you have access to leaders, can make immediate contributions to your community, and have access to peer support. We are also a state that places significant value on making a living and making an impact, as reflected in Vermont being home to many B-Corporations.
Address workforce realities and opportunities: expanding on our existing Workforce and Talent efforts, we will explore how to leverage the gig economy, the role of AI to supplement our workforce, and how to tap into the expertise of those retiring to Vermont.
Tell a better Vermont story: how do we attract the right people and right businesses to Vermont though a shared story about our present and future.
As we are just beginning this work on Innovation and Entrepreneurship, we welcome your involvement, thoughts and feedback, data sets, and resources. If you wish to get involved or have resources to share, please contact Chad T. Ahern, Director of Research and Education.